I had an incredible weekend away with my husband…a very rare treat fore the two of us!
It was a whirlwind trip, though…driving over sixteen hours in three days. We were able to see family, friends, ride the metro (always an adventure), walk around the National Mall, and participate in the Army Ten Miler Race (he ran…I watched an cheered).
God's blessings have been so evident all week as I have sought to see them and praise Him for them.
I know that there are so many that I miss throughout the day. Can we ever praise Him or thank Him enough? I don't think so.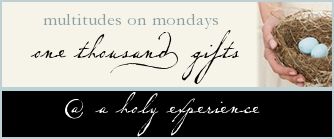 My list of blessings is longer this week because I was intentional about jotting them down, more intentional than I have been in a long time. But, still, with this longer list, I know it just scratches the surface of how God has worked in my life this past week.
629. encouragement from friends
630. letters in the mail from Sunday School teachers – a ministry to my 2nd grade girls
631. travel paperwork submitted for the next move
632. dreaming of a weekend away
633. little girls washing dishes together…water splashing on the floor
634. two year old carefully selecting a book to read before bed
635. little boy saving space for me to sit on his bed
636. walking into Will's room and seeing him reading, "Teacher, Teacher, what do you see?"
637. leisurely walk through Target *alone*
638. little sister clapping for her big brother as he does his school work
639. second grader doing math with her baby sister on her lap
640. a weekend alone with my husband
641. cheering for him in the Army 10-miler
642. adventures together
643. his hand in mine, whispers of comfort & love as we witness a couple's fight on the metro
644. wounded warriors finishing the race
645. shooting all of my photos in manual (yay!!!)
646. dinner with friends and their sweet boys
647. safe travel to DC & back home
648. looking forward to a new week & all that it has to offer
Thank you for joining me today and sharing in these blessings!
What blessings are you counting this week?