I spent Saturday de-cluttering and organizing the massive amount of children's clothes we have accumulated and held on to through the years.
As we are preparing for a move and I am seeking to live a more simplified life, this job was one that I have been greatly looking forward to.
I woke up feeling completely overwhelmed at the task at hand as I brought down box after heavy box from our attic.
With each bag I tied up to be taken away to Goodwill or given away to friends expecting babies, I felt a little more freedom.
The clutter in our home has been weighing me down for so long. Even though it has been tucked away and out-of-sight in the attic, just knowing that it's there gave me a feeling of suffocation.
As the boxes were taken out by my husband I felt as if I could begin to breath again.
There's still much to do…the toys are on my agenda for next weekend, but getting that one task done was one of the biggest blessings of my week!
Being a military family has many hardships.
The constant moves that we make are definitely one of those hardships that we deal with.
I am learning that the best way not to be defeated by this life is to look at our struggles and hardships in the light of blessing.
It is a blessing that we have the opportunity to clean out our homes every few years. When we're in one location, it's so easy to put this task aside and let "stuff" accumulate.
It is a blessing that we get to travel to new places and experience life in so many parts of our country and world.
Instead of looking at our upcoming move and the one that will follow just six months later as a hardship, I am choosing to see it as a blessing.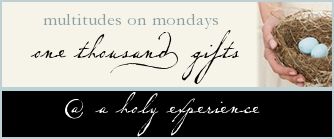 Here are some other blessings from my week that I am counting…
608. Krispy Kreme doughnuts…they really are the best
609. tasting new vegetables
610. breakfast for dinner…a favorite treat
611. words reaching my heart from the (in)RL webcast
612. toddler sneaking snacks
613. cleaning out clutter
614. husband taking little ones out for a picnic and walk at the park while I clean
615. movie nights
616. daddy and daughter doing push-ups together
617. afternoon escapes to Target
This weekend I was blessed by the opportunity to clean out some clutter in our home and because of it I am breathing a little easier today!
What blessings are you choosing to count today?